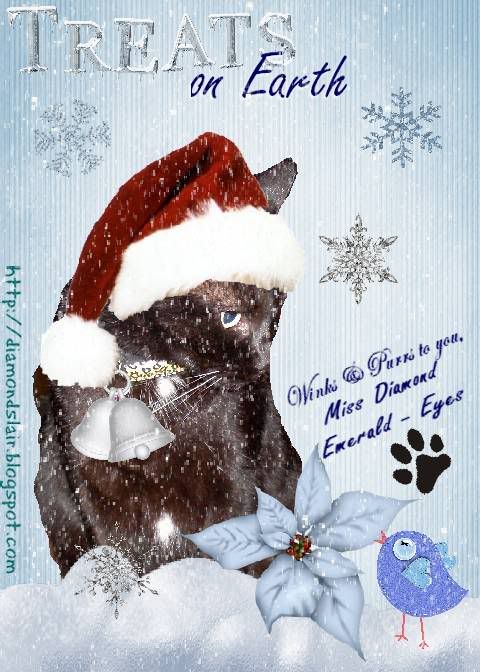 Today, I am pleased to announce the unveiling of my 2008 limited edition holiday greeting card. It's all about something near and dear to me, TREATS! (And the eating of small birds before they freeze to death.)
If you would like to receive one of these special holiday greeting cards, please
e-mail me
with you snail mail address and I shall send one to you.
Note that my tabby brofur unveil his card yesterday and that if you have already e-mailed to him, you do not need to e-mail to me as well. You will also get one of my cards and versa-visa. (My bean call this Chering an envelope. She says I need to work on this Chering thing a lot, but I don't know what Sonny Bono's widow have to do with anything.)
Some of you have asked how my bean make all these graphics. She has a blog (
http://digicats.blogspot.com/
) where she talk about the the programs he uses in and the like but she use mostly PhotoShop and a program called Photosuite to put graphics together. She also has PSPxI, but she is just learning how to use that.
Anyway, usually cards have gone to family in this past, this is the first year I am allowed to offer them to you, my furriends. So please feel free to take advantage of this great offer to get a wonderful picture of me to hang on your holiday mantle, or to sleep cuddle up next to. Unlike the real me, the holiday card will not attempt to take over your bed.
Correction:
Sunday during BKCFC #71, I send around Zoolatry's request to write just one more for wounded men and women in our armed services. The mail address that was given at the time was in correct. The correct address is:
Holiday Mail for Heroes
P.O. Box 5456
Capitol Heights, MD 20791-5456
I can assure you that we will send several cards to the brave men and women who helped fight for freedom for our country and hope that you will help in this great cause as well.
(Disclaimer: No hats or small birds were harmed in the making of this holiday cards. Despite the fact that it is unseasonable cold in Southwest Florida, it is not snowing.)