I have decided to make an award. I wanted to call it the "Crazy Cat Lady Award", but bean says some peoples might take offense to that.
So I decided to call it the
Caring Cat Lady Award
. It is for human peoples that are crazy about their cats and despite the name, you do not have to be a lady to get one. That just what we call it.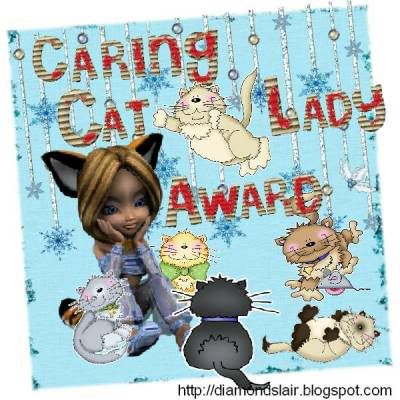 The rules are that:
This award is for the humans - not the cats - so remember to give it to the humans.
Link back to the furson who gave it to you.
The felines in the family then get to pass it on to three other crazy caring cat ladies (or not ladies, as the case may be).
Be sure to leave a link on the other cats' blogs to let them know their human persons have won an award.
HERE is the link
to the small size award (200 pxl) to put on your side bar.
So, I get to give out the first three awards and (obviously) these should be pretty easy, so...
1. I give the first award to
ML
who cares for KC, Sol, BJ, et al. as well as run the Cat Blogosphere, the most wonderful invention on the internets.
2.
Not the Mama
, who help with lots and lots of things besides taking care of a whole bundle of cats.
3. The Maw and Paw at
Forty Paws
who make the wonderful cat Ham-Micks, not to mention taking care of (is it still) 10 cats!
Note: Please remember that I am hosting Bad Kitty Cats Festival of Chaos at House Panthers this weekend. But sure to submit your post! Thank you!