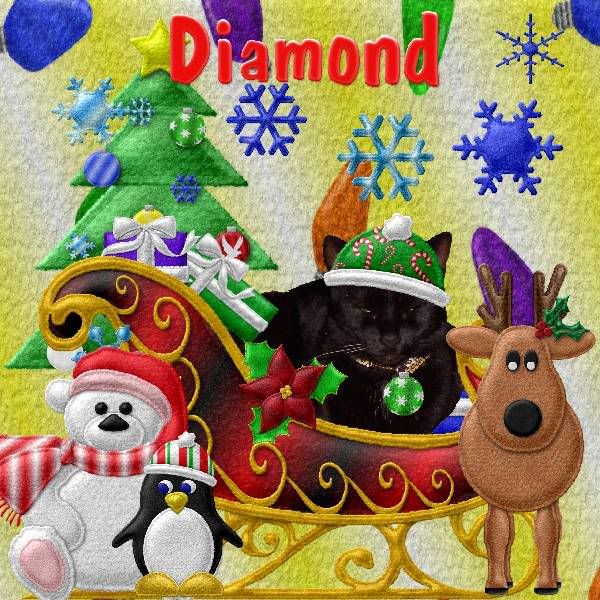 Do not let my Tabby brofur see this hat, or he will want one just like it!
Trees are great toys for us cats, but unfortunately, the can be dangerous as well.
We of course seem to think the ornaments are "balls" to play with and if one breaks or gets chewed, we could end up ingest pieces. Don't decorate the tree with breakable or easily damaged ornaments.
Yes we may knock over the tree trying to climb it or while we're investigating it. Make sure it's in a sturdy stand and if necessary, secure the tree to the wall or ceiling with some rope to give it extra stability. Kittens and young cats especially will want to try to climb the tree.
When your decorating, don't use wire ornament hooks that can easily snag an ear or a tail, or, if swallowed, can lodge in the throat or intestines. Instead, fashion loops of yarn, ribbons or lightweight twine. And be careful not to leave any of that lying around either. You know how much we like playing with that stuff.
Ingestion of string, ribbon on gifts, or bulbs can cause what vets refer to as a foreign body. Prevent exposure of your cat to gifts unless supervised and try to use little or no tinsel on the tree or on decorations the we might get to.
Some cats will drink water from the tree. Don't use preservatives in the stand water. They can be toxic if consumed by a thirsty feline. Carefully cover the top of the stand with a tree skirt to discourage the drinking of the water in the tree stand. A good tip is to Sprite instead of water. The trees like, it and it won't hurt us if one of us drinks it.
There are any number of hazards during the holidays for cats. It is good for your humans to be aware of them and to take steps to make sure you are safe during this festive time of the year.