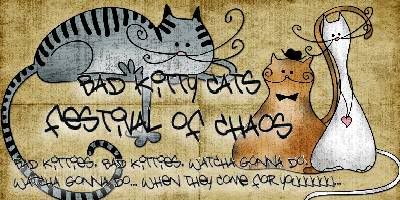 First...some left overs....
The Christmas Trees were all coming down this week, but China Cat liked to
fantasize that she's living in a jungle
.
Man, don't you just hate it when the trees come down?
Willow cat just LOVES her Gizzy Quilt
! Can you blame her, quilts are very comfy.
Over at Small & Big, they recount
lessons humans have learned from their cats
. I like the part about follow your sunshine!
Now...on to the newer stuff....
It's been the Festival of the Wild Hawgs again around here, but I don't believe I've ever seen one like this one, found by
Elms in the Yard
.
Over at
Dolphin's Dock
, it's Feline Friday. Another silly human seem to think those gadgets are "space heaters" when it is quite clearly heating the cat.
Looking back with
This, that and the Other Thing
on how much Sox liked baths.
I like baths too, just not the kind you take in water.
Doubting Thomas treats us to an
LOL Cat
on Friday kitten blogging.
Tristan tries to be a LOL Cat, but he is not really funny on
Easy Like Sunday
. He also talks about the Superbowl, cheerleaders, his life of decadence, and FASHION.
Rosie is feeling nosy over at
Three Country Cats
as she attempts Daisy's Cabinet Opening trick. My tabby brofur is pretty good at that. I purrrfer to use my paw, and am not so good. (We each have our own talents.)
We have some
"Wintery Day Watercolor"
over at Phoebe's place. She makes a very good subject, so be sure to check it out.
Gree is looking
very purty
over at the House of the Mostly Black cats.
In fact, she is so purty she has left CeCe speechless on
Wordless Wednesday
. According to Mizz Mog though, he was quite the chatty fellow on
Finally Friday
.
More wordlessness comes to us over at
The Mind of Mog
.
Moewza isn't exactly
wordless
, but he claims he did find it a little hard to sing underwater!
Find more feline fun at
T-13: Country Cats
!
There is quite a bit of fun going on at
Life from a Cat's Perspective
as Samantha Black is getting ready to roll Mr. Tigger! Hey...can I put that on G rated blog?
Thank you for joining us for this week's Festival of Chaos! Need more cats? Try
Weekend Cat Blogging
with
The Sour Dough
, or
Carnival of the Cats
with
Kashim, Othello, & Salome
.
PeeEss:
Miss Ginger reports on the post card she has gotten to date at
Ginger's House
. As I write earlier, she is trying to get 100 post cards for her class for the 100th day of school. If you can help, send a post card to:
Ms. Brown's Class
Greynolds Park Elementary
1536 N.E. 179th Street
North Miami Beach, FL 33162
She teach Kindergarten and you will make all her children furry happy!