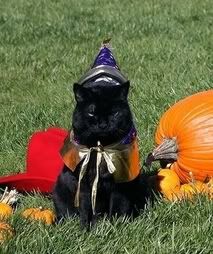 It is with great sadness that I report today the passing of First Cat and fellow House Panther India, also knows as Willie, at the age of 18. The black Domestic Shorthair, which spent the last 8 years of his life in office, passed away Sunday at the White House.
"The president, Mrs. Bush, Barbara, and Jenna are deeply saddened by the passing of their cat India ("Willie")," press secretary Sally McDonough said in a statement.
"India was a beloved member of the Bush family for almost two decades. She will be greatly missed," she said.
India was named by Barbara Bush after a former Texas Ranger baseball player, Ruben Sierra, who was called "El Indio," but the cat was called "Willie" or "Kitty" by the family.
The Bush family has two other pets, Barney and Miss Beazley, both Scottish Terriers.
The American feline community joins with the Bushes in mourning the loss of India.