Vishus Deer Alert!


Five vishus deers laid siege to a New Jersey church school and two of the vishus deer jumped into a class room to attack the students and teachers. Happily no one was injured in the assault, but the deers scared the children terribly and trashed the classroom.

See the video of the attack here: http://gmy.news.yahoo.com/v/11424058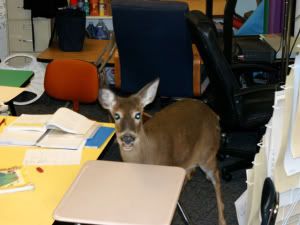 LOOK AT THE EVIL GLOWING EYES ON THIS CREATURE!
No one is safe from these terrible animals!
Purrhaps we need to take up a collection and send them some cans of Rocky's Vishus Deer Repelunt?