Mardi Gras (Fat Tuesday) in New Orleans, Louisiana, is one of the most famous Carnival celebrations in the world.
The New Orleans Carnival season, with roots in preparing for the start of the Catholic season of Lent, starts on Twelfth Night (January 6). It is a season of parades, balls (some of them masquerade balls), and king cake parties. It has traditionally been part of the winter social season, at one time closely related to "coming out" parties for young women at debutante balls.
Celebrations are especially concentrated for about two weeks before and through Fat Tuesday, the day before Ash Wednesday. There is usually one major parade each day (weather permitting); many days have several large parades. The largest and most elaborate parades take place the last five days of the season. In the final week of Carnival many events large and small occur throughout New Orleans and surrounding communities.
The parades in New Orleans are organized by Carnival krewes. Krewe float riders toss throws to the crowds; the most common throws are strings of plastic colorful beads, doubloons (aluminium or wooden dollar-sized coins usually impressed with a krewe logo), decorated plastic throw cups, and small inexpensive toys. Major krewes follow the same parade schedule and route each year.
While many tourists center their Mardi Gras season activities on Bourbon Street and the French Quarter, none of the major Mardi Gras parades has entered the Quarter since 1972 because of its narrow streets and overhead obstructions. Instead, major parades originate in the Uptown and Mid-City districts and follow a route along St. Charles Avenue and Canal Street, on the upriver side of the French Quarter.
To New Orleanians, "Mardi Gras" refers to the whole Carnival season; visitors tend to refer to Fat Tuesday as "Mardi Gras." Some locals have thus started to refer to the last two days of Carnival as "Lundi Gras" (Fat Monday) and Fat Tuesday to avoid confusion.
Mardi Gras was brought to Louisiana by early French settlers. The first record of the holiday being celebrated in Louisiana was at the mouth of the Mississippi River in what is now lower Plaquemines Parish, Louisiana, on March 3, 1699. Iberville and Bienville and their men celebrated it. The starting date of festivities in New Orleans is unknown. An account from 1743 notes that the custom of Carnival balls was already established. Processions and wearing of masks in the streets on Mardi Gras took place, were sometimes prohibited by law, and were quickly renewed whenever such restrictions were lifted or enforcement waned. In 1833 Bernard Xavier de Marigny de Mandeville, a rich plantation owner, raised money to fund an official Mardi Gras celebration.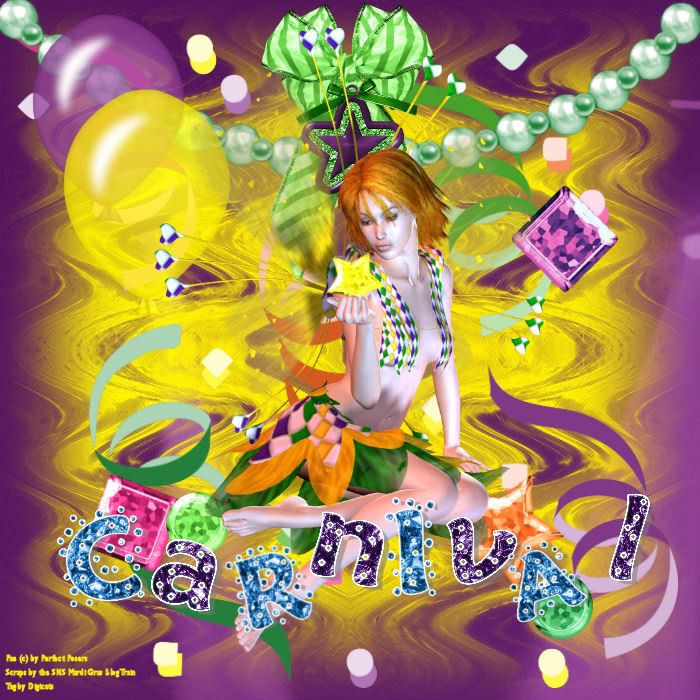 On Mardi Gras of 1857, the Mistick Krewe of Comus held its first parade. Comus is the oldest continuously active Mardi Gras organization. It started a number of continuing traditions (for example, the use of floats in parades) and is considered the first Carnival krewe in the modern sense. In 1875 Louisiana declared Mardi Gras a legal state holiday.
War, economic, political, and weather conditions sometimes led to cancellation of some or all major parades, especially during the American Civil War, World War I and World War II, but the city has always celebrated Carnival.
1972 was the last year in which large parades went through the narrow streets of the city's old French Quarter neighborhood; larger floats and crowds and safety concerns led the city government to prohibit big parades in the Quarter. Major parades now take place outside the Quarter.
In 1979 the New Orleans police department went on strike. All the official parades were canceled or moved to surrounding communities, such as Jefferson Parish. Significantly fewer tourists than usual came to the city. Masking, costuming, and celebrations continued anyway, with National Guard troops maintaining order. Guardsmen prevented crimes against persons or property but made no attempt to enforce laws regulating morality or drug use; for these reasons, some in the French Quarter bohemian community are fond of calling 1979 the city's best Mardi Gras ever.
In 1991 the New Orleans city council passed an ordinance that required social organizations, including Mardi Gras Krewes, to certify publicly that they did not discriminate on the basis of race, religion, gender or sexual orientation, in order to obtain parade permits and other public licenses. In effect, the ordinance required these, and other, private social groups to abandon their traditional code of secrecy and identify their members for the city's Human Relations Commission. In protest, the 19th-century krewes Comus and Momus stopped parading. Proteus did parade in the 1992 Carnival season but subsequently also suspended its parade for a time. In 2000, Proteus returned to the parade schedule.
Two federal courts later declared that the ordinance was an unconstitutional infringement on First Amendment rights of free association, and an unwarranted intrusion on the privacy of the groups subject to the ordinance. The decision of the Fifth Circuit Court of Appeals appears at volume 42, page 1483 of the Federal Reporter (3rd Series), or 42 F.3d 1483 (5th Cir. 1995). The Supreme Court refused to hear the city's appeal from this decision.
Today, most krewes operate under a business structure; membership is basically open to anyone who pays dues, and any member can have a place on a parade float. In contrast, the old-line krewes were social groups that used class and economics to create exclusive groups. They used the structure of the parades and balls to extend the traditions in their social circles of the debutante season.
The devastation caused by Hurricane Katrina in late 2005 caused many to question the future of the city's Mardi Gras celebrations. The city government, essentially bankrupt after the storm, pushed for a massively scaled back celebration to limit strains on city services. However, many krewes insisted that they wanted to and would be ready to parade, so negotiations between krewe leaders and city officials resulted in a compromise schedule. It was scaled back but less severely than originally suggested.
The 2006 New Orleans Carnival schedule included the Krewe du Vieux on its traditional route through Marigny and the French Quarter on February 11th, the Saturday two weekends before Mardi Gras. There were several parades on Saturday, Feb. 18, and Sunday the 19th a week before Mardi Gras. Parades followed daily from Thursday night through Mardi Gras Day. Other than Krewe du Vieux and two Westbank parades going through Algiers, all New Orleans parades were restricted to the Saint Charles Avenue Uptown to Canal Street route, a section of the city which escaped significant flooding. (Some krewes unsuccessfully pushed to parade on their traditional Mid-City route, despite the severe flood damage suffered by that neighborhood).
The city placed restrictions on the length of time when parades could be on the street and how late at night they could end. National Guard troops assisted with crowd control for the first time since 1979. Louisiana State troopers also assisted although they have maintained a presence during Mardi Gras for many years. Many floats had been partially submerged in floodwaters for weeks. While some krewes repaired and removed all traces of these effects, others incorporated flood lines and other damage into the designs of the floats.
Most of the locals who worked on the floats and rode on them were significantly affected by the storm's aftermath. Many had lost most or all of the possessions in their homes, but enthusiasm for Carnival was even more intense than usual as an affirmation of life. The themes of many costumes and floats had more barbed satire than usual, with commentary on the trials and tribulations of living in the devastated city. References included MREs, Katrina refrigerators and FEMA trailers, along with much mocking of FEMA, local, and national politicians.
The traditional colors of Mardi Gras are purple (Justice), green (Faith), and gold (Power). These colors are said to have been chosen by Grand Duke Alexis Alexandrovitch Romanoff of Russia during a visit to New Orleans in 1872. This doctrine was reaffirmed in 1892, when the Rex Parade theme "Symbolism of Colors" gave the colors their meanings.
Each year; the Mardi Gras (or Carnival) season starts on January 6, also known as Twelfth Night. The Twelfth Night Revelers, one of Carnival's oldest Krewes, holds a masked ball each year to mark the occasion. Like Twelfth Night Revelers, many of Carnival's oldest groups, such as the Elves of Oberon and the High Priests of Mithras, hold masked balls, but do not parade in public.
The parade season starts off some three weekends before Mardi Gras Day with the Krewe du Vieux parade.
There is usually at least one parade every night starting two Fridays before Mardi Gras.