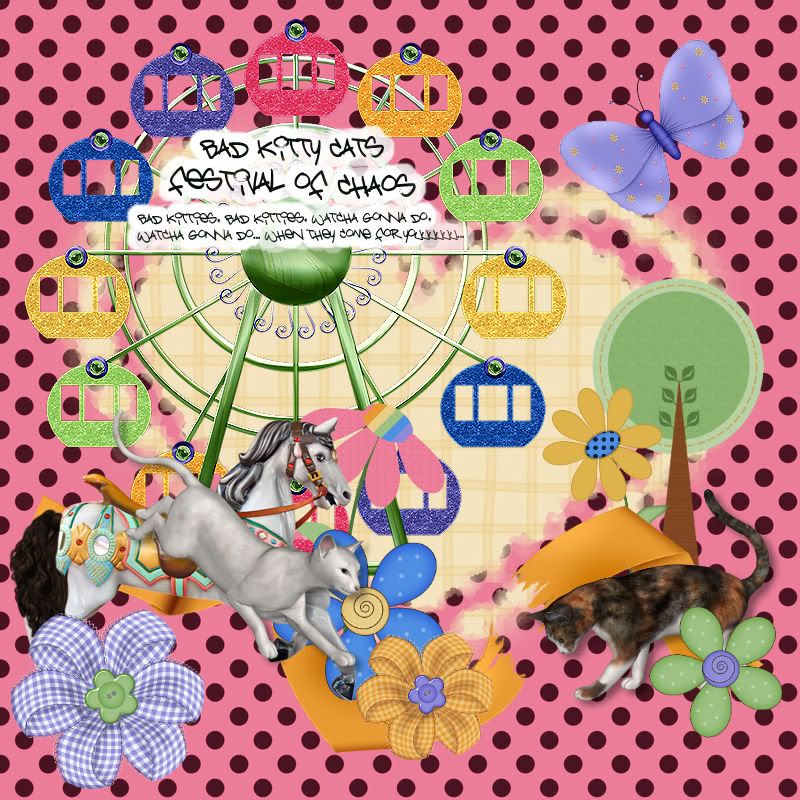 Friday was first day of Spring! and it has been very spring like weather here in Florida, which make me happy! I get to go outside and enjoy the spring breezes.
The Mind of Mog has noticed that
Spring has Sprung
as well. I wonder what tip her off? Now...on to the festival...
Starting us off on today's Bad Kitty Cats Festival of Chaos, is something not bad at all, but is some of the cutest kitten pictures on the internets over at
AA+ Cat Pictures
.
In spring a young tomcats thoughts turn to the making of kittens and one of my neighborhood suitors has been coming by, but I do not make kittens, of course, so he need to take his interest elsewhere. Besides, he is no where near the Mancat my Zed Monster is!
Evidently in spring, thoughts turn to spam too...as we seem to get lot of it this time around.
Elms in the Yard wish to share with us a pair of Bad Kitty Cats flashing their
bright laser eyes
!
As you know St. Patrick's Day was this week and Meowza share his
celebratory pose
with us.
He is, of course, in fine company with all the kitty cats you join me for the
Purrading of the Green
on Thursday!
Ceecee is
waiting outside
for the Purrade to start, or for his Temptations, which might be pretty much one in the same thing.
Sanjee and company were celebrating St. Patrick's Day this week as well, over at the
House of the Mostly Black Cats
.
If you are looking for Bad Kitty Cats, look no further than the House of Chaos as Freya is being the
Mistress of Mayhem
. With a head butt here and head butt there, here a butt there a butt everywhere a butt-butt...
Speaking of which, my tabby brofur's butt was red and sore earlier this week, which necessitated a trip to the vet. He of course took the excursion in typical
Mancat Monday
style.
Meanwhile
What a Good Cat
engages in some traditional weekend cat blogging.
Irish Coda
shares a picture of the lovely Amber this week, on Camera Critters.
Over at Chey's place,
Cheysuli is appalled
by the male human's behavior. Not surprising after all, men, and Mancats, do some of the strangest things!
Luna made sure to request that the next time I take road trip, I come see her in sunny California. I must definitely plan west coast road tip soon. For now, I will just have to settle for
Weekend Cat Blogging
with my fellow House Panther.
Over at the Kitty Cat Gazette, Erin McBagby was arrested for
impersonating a Scotting Fold
. Um...shouldn't that be impurrsonating? On has to wonder how my furriend
Misty Whispurrs
feels about that!
At Watermark, it seems that the
monkey haz a flavor
. But the question is...what kind of flavor?
Did you know nicotine have a flavor too, and that it can be fatal?
Cigarettes and cigarette butts, cigars, pipe tobacco, nicotine patches, nicotine gum and chewing tobacco can be fatal to dogs, cats and birds if ingested. Signs of nicotine poisoning can appear within an hour and include hyperactivity, salivation, panting, vomiting and diarrhea. Advanced signs include muscle weakness, twitching, collapse, coma, increased heart rate and cardiac arrest. If anyone who lives in or visits your home smokes, tell them to keep tobacco products out of reach of pets and to dispose of butts immediately. That is my cat care tip for you today on this Sunday!
Need more cat blogging? Samantha and Mr. Tigger are hosting Weekend Cat Blogging at
Life from a Dog's Perspective
.
They claim it was too hectic at their house this weekend for them to be bad! So they are just being
Easy Like Sunday Morning
.
And yes, it's true! I have absconded with the big Ferris Wheel for this weekend's BKCFoC, but don't worry, there's still plenty of fun to be had at
When Cats Attack!
as they host the Five Year Anniversary of the Carnival of the Cats!