What kind of toys do you like?
It should be no secret that the secret to feline happiness is our playtime. We love to play!
Playing not only provides us with exercise, but it keeps our minds sharp and our predatory instincts honed. As playing generally take the form of stalking and catching prey, it should come as no surprise that each us has a certain type of toy or "prey" that we like to play with.
Toys can be broken down into three general categories: birding, mousing and bugging.
These are my favorite toys! I love my little mousies!
Birding toys simulate bird movements and may chirp and flutter, and are usually made of fev-vers. Mousing toys sometime squeak and are often made of fur or fabric. They are often thrown or tossed and we much chase them.
Bugging toys tend to skitter around. The "red dot" laser toy is a popular bugging toy, as is a old fashioned string with a knot in the end.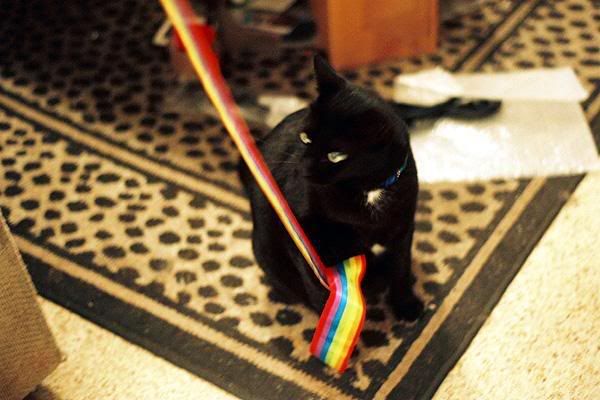 When I am not mousing, I very much like to play with this rainbow ribbon toy!
Toys should be kept in good condition so they are safe for us to play with. They should be no loose parts that we might accidentally swallow and choke on.
Myself, I am a mouser type of cat. I favor small furry mice, although the fev-ver butt mice are very good too. I will also play with sparkly wands, but only if they are small.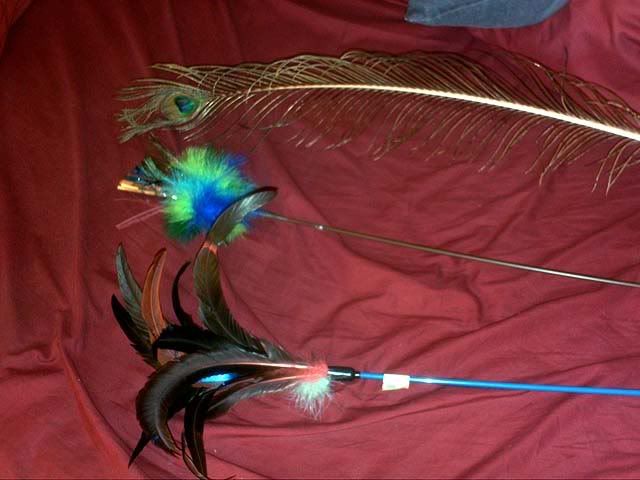 Tabby brofur prefers these fev-ver wands.
The big turkey bird toy is my Tabby Brofur's favorite (well not counting catnip that is), and he likes to jump and catch. He also like little balls that he can bat round and pounce on.
What is your favorite toy? Please leave a comment and let me know!