Zuke steps down over arthritis
By DREW WINCHESTER
Cape Coral Daily Breeze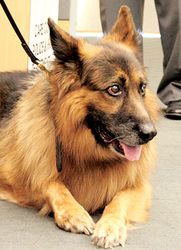 A senior member of the Cape Coral Police Department retired Wednesday, but the officer is a little different from his fellow co-workers: He stands on all fours.
German shepherd "Zuke," a trusted member of the K-9 Unit, is settling down to a normal life after nine years of service due to arthritis in his hips.
Zuke went out in grand fashion, though, getting a send off at City Hall from dignitaries including Mayor John Sullivan and Police Chief Rob Petrovich.
"This is an impressive record," Sullivan said. "He has a long history of battling crimes on many different levels."
Among Zuke's accomplishments:
- 461 narcotic searches.
- 273 narcotic arrests resulting from the searches.
- 224 tracks for criminals and missing or endangered persons.
- 67 apprehensions.
- 139 public demonstrations.
- Four stops in one month resulting in the seizure of more than 600 grams of marijuana.
- Tracked a suspect which led to the capture of a child rapist.
Born in 1999 in Czechoslovakia, Zuke's registered name is Vicko Z. Krkonossko.
Zuke has had two handlers during his time at the CCPD.
His current handler, Officer Jason Matyas, said the much loved and highly trained dog will spend retirement at his home with his 3-year-old son, Aiden.
"He gets to hang out with his new handler now," Matyas said. "He'll hang out and watch the house when I'm not there."