From our furrriends at Associated Purrresss:
Cats are known for good grooming, but few have a sense of style. Now consider Lorenzo the cat, a notable and hilarious exception. The 2-year-old feline was recently profiled in an AP article because of his love of posing for the camera while wearing outfits.
The cat has scored thousands of fans, including Yoko Ono and Alanis Morissette, on Facebook, MySpace and YouTube. His Web searches on Yahoo! are also clawing their way upward. Over the past 24 hours, online lookups for "lorenzo the cat who wears clothes" shot up 75%.
Click to see a slideshow of Lorenzo the cat's hot looks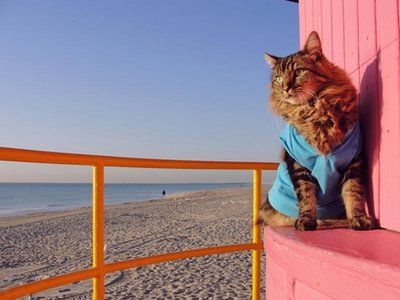 Joann Biondi via AP
While Lorenzo has exhibited a willingness to model everything from cabana wear to classic denim, he does have a few rules that must be followed if Joann Biondi, his photographer (and owner), wants his cooperation in front of the camera. First, no pants. Second, no caps. And third, much like David Hasselhoff, Lorenzo's top button must remain open. Hey, the fur's gotta breathe, baby!
Visit Lorenzo Online