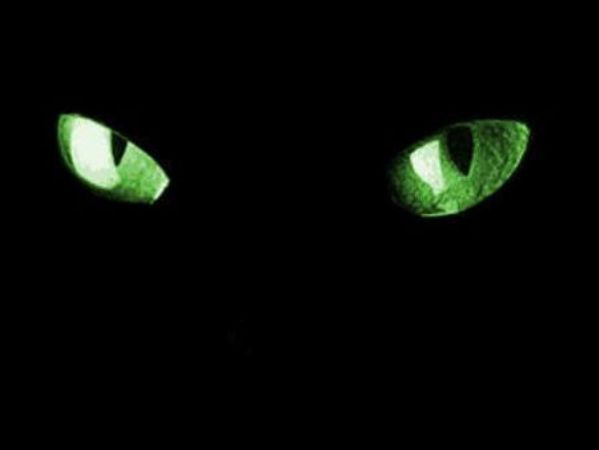 You know, I always hear that pets are color blind. This kind of true, but what most humans mean, when they say this, is that we don't see colors at all. This is not true, we can see colors. Just not the way humans can.
Most non-primate mammals have only two types of cones in their eyes. (Humans have three types of cones.) In our eyes, these cones ae optimized for sensitivity to blue and yellowish green. Colors like red and green, kind of look the same to us, although sometime we can see them in proper lighting conditions.
Now, there is a trade off. Cones are lot less sensitive to light. Our eyes work different than human eyes at night. We have something called a tapetum lucidum, which reflect any light that passes through the retina back into the eye. This increases the eye's sensitivity to dim light.
Cats can see in just one-sixth of the light level required for human vision!
Another reason we see better in the dark is that we have slit pupils. Some big cats, like tigers, do not, but domestic cat do.

Our slit pupils can focus bright light without chromatic aberration, and are needed since our pupils are much larger, relative to our eyes, than the pupils of the big cats.
At low light levels our pupils will expand to cover most of the exposed surface of our eyes. Large pupils, combined with the tapetum lucidum, give us the lazer eye effect that cats show off at night or sometimes in photographs.
Finally, there something in our eyes called rods, which are much more sensitive to the light than cones. Humans have rods too, but we have more of them because we have less cones. Rods do not process color well, and do not see red at all, which is why we have hard time with red.
So maybe reds and greens of Kissymouse not so exciting for us, but I think much better to see in low light than worry about colors like red and green, don't you?
Besides, humans greatly admire our beautiful eyes!